Deutsche Bank Closes Trump's Account Over Capitol Unrest | ZeroHedge
The NWO Cabal intend to Destroy President Trump for thwarting their plans for Population Control.
World is in the grip of evil | The_Void
Whatever disappointment President Trump is feeling about being barred from his Twitter and Facebook accounts, he's probably more upset about this: Deutsche Bank, one of the Trump Organisations biggest lenders from the past 20 years, says it will no longer do business with the Trump family, according to the NYT.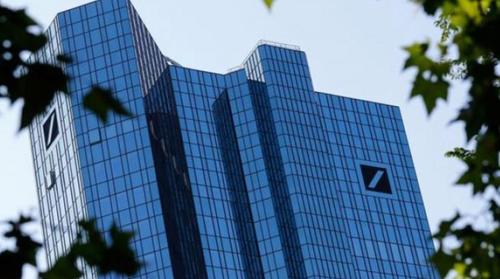 Another bank, Signature Bank, where Trump has checking, savings and money-market accounts, said that it would close accounts belonging to Trump worth some $5.3MM.
NEW: Banks are moving away from Trump & his company.

• @DeutscheBank won't work with him in the future, source says.

• Signature Bank, which long had close ties with Trump and Kushner, is closing his accounts. with @EricLiptonNYT @SteveEder @maggieNYT https://t.co/Zu7HzJAS6z

— David Enrich (@davidenrich) January 12, 2021
What's more, Signature Bank, where Ivanka Trump once sat on the board, is officially calling on Trump to resign, saying that while it hopes to soon go back to assiduously avoiding politics, the president had put Signature in an uncomfortable position.
"We believe the appropriate action would be the resignation of the president of the United States, which is in the best interests of our nation and the American people," the bank said in a separate statement on Monday.
For years, Signature has served Trump and others in his orbit, including Ivanka, Jared Kushner and even Michael Cohen. It even helped finance the construction of Trump's Florida golf course. But the bank added that not only would it stop banking with Trump, it would also bar any lawmakers who backed the election challenge from banking there as well.
The head of Deutsche Bank US also released a statement calling Wednesday's Capitol riot a "dark day" for American democracy.
"Yesterday was a dark day for America and our democracy," Deutsche Bank Americas head Christiana Riley posted on LinkedIn. "We are proud of our Constitution and stand by those who seek to uphold it to ensure that the will of the people is upheld and a peaceful transition of power takes place."
As the NYT reported shortly before the election, Trump still owes about $300MM in a series of personally guaranteed loans to DB that come due in 2023 and 2024. That doesn't give him a ton of time to work out new deals, but his son Eric Trump has insisted that some deals involving foreign partners are in the works. Rosemary Vrablic, the DB banker who managed the relationship with the Trumps, left DB shortly after the election
A lot could change in that time. For all we know, DB could change its mind and offer Trump an opportunity to roll over the remaining balance that he can't afford to pay back (the bank has already lent Trump money against its better judgment once).
DB faced pressure from lawmakers throughout Trump's term in office after it was revealed that the bank was the Trump Organisation's primary lender since the late 1990s. Now, according to the NYT, the bank has determined that, short of forgiving Trump's massive debt, the bank has few options for extricating itself from its business ties to Trump.
All of this practically ensures that Trump will need to look abroad for financing if he wants to roll over the DB loans. When that happens, we imagine Democrats will be waiting to pounce and accuse him of trading American secrets for financial favours.
Source: Deutsche, Signature Bank Abandon Trump Over Capitol Unrest | ZeroHedge
https://www.thevoid.uk/wp-content/uploads/2021/04/The_Void-Web-Logo-Red-Round.svg
0
0
Robo
https://www.thevoid.uk/wp-content/uploads/2021/04/The_Void-Web-Logo-Red-Round.svg
Robo
2021-01-12 16:45:10
2022-10-08 02:30:34
Deutsche Bank Closes Trump's Account Over Capitol Unrest | ZeroHedge